I drove down south again over the weekend. I wanted to check out the ArtWalk 2012 in Fayetteville, Texas. Even though I've been down to that part of Texas many times, Fayetteville has never been part of the itinerary—with good reason. Fayetteville is so small, I had to stay in La Grange, of Chicken Ranch fame. La Grange is also the home of the absolutely worst Mexican food I have ever tasted! I won't name names, but I should have gone to the seafood place.
When I mentioned where I was going, everyone had the same reaction: "Arkansas?" or "Where is Fayetteville?" I had been told that this was a nice, small art fair that gets knowledgeable patrons driving up from Houston, and I wanted to check it out.
The countryside is beautiful and the town square is cute (Do towns like for us to describe them as "cute?") I wish I had driven around and found this cemetery.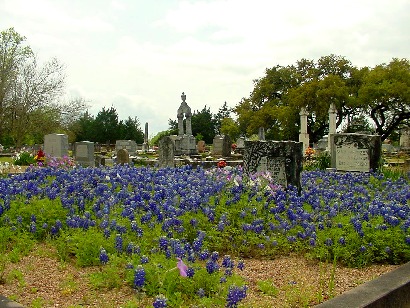 It wouldn't have any bluebonnets now, but the gravestones look interesting.
I did find an artist whose work I love! Melanie Fain does etchings and watercolors of the smaller living things found in nature. The home page of her website has a horned toad. one of our favorite critters around here, sadly not found very often anymore. I fell in love with the Crane etching, but there were others that I also wanted, like the wildflower pieces or the roadrunner—another animal that we don's see as frequently as we used to.
Oh, yeah, I plan to weave this week, although I have to admit, it's tough right now. I keep checking on floor coverings, upholstery fabrics, and paint colors. Let's just say I'm a one-topic-at-a-time doer.